| | |
| --- | --- |
| | Azure Open AI Connector is currently deployed to a subset of customers and is not generally available. If you would like to join the beta program, please reach out to your Templafy contact. |
About this article
This article will explain how to enable Azure Open AI connector and provide end-users access to the AI text assistant in the Library pane. The AI text assistant will help the users to summarize, rephrase, improve, or elaborate existing text in Word, PowerPoint, and Outlook.
Prerequisites
Admin access to Templafy tenant
Library module and Data Connector module enabled
End-users will require the Library VSTO add-in version 7.2.104 or above to use the AI text assistant
How to set up Azure Open AI in Templafy?
In the Admin Center, access Integrations section
Go in Available tab
Find/Search for Azure Open AI
Click +
Enter the required information

Display Name
Words that describe the correct tone of voice
Words that describe off-brand language

Click Save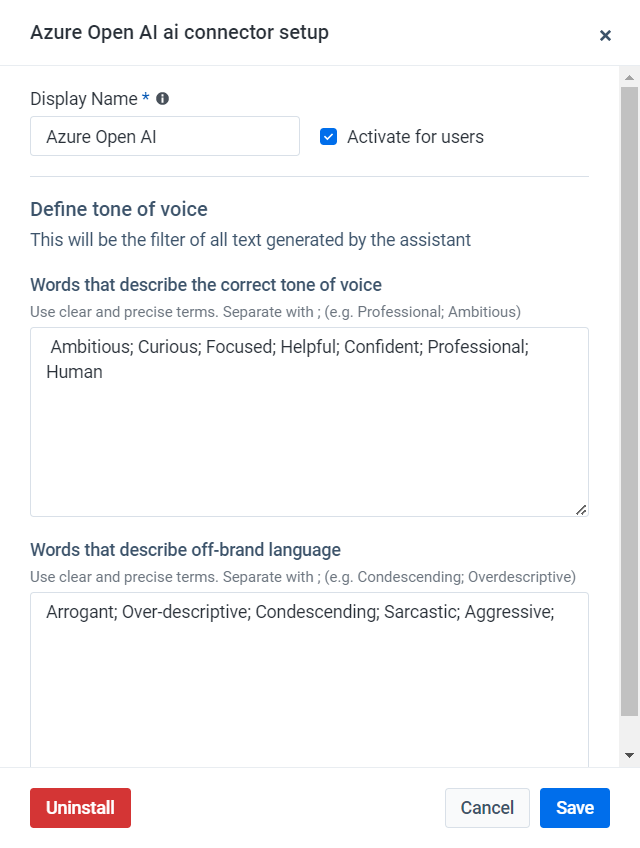 Security and Data privacy information
The AI text assistant will process all information that is actioned by the AI text assistant. This means that if PII (Personal Identifiable Information) is part of the text, this information will be processed. No information fed into the tool will be used to train the AI learning engine.
The prompts and completions data may be temporarily stored by the Microsoft Azure OpenAI Service in the European Economic Area for up to 30 days. This data is encrypted and is only accessible to authorized Microsoft employees for (1) debugging purposes in the event of a failure, and (2) investigating patterns of abuse and misuse to determine if the service is being used in a manner that violates the applicable product terms. Note: When a customer is approved for modified abuse monitoring, prompts and completions data are not stored, and thus Microsoft employees have no access to the data. For more information, click here.
There are no third-parties involved in the processing besides Templafy and Microsoft Azure. No data is stored on the side of Templafy, all input and output data for this service is passed directly through Microsoft Open AI.
Templafy will improve and enhance our Service by tracking usage data during the beta period as stated in the beta agreement. Please note user provided content will not be tracked or logged. The usage data is pseudonymized.
Related articles