You are getting a blank screen in the Templafy window in Office
#1 - Bug in new MS Office release
 This is an issue with a new version of Office that is only included in the Early Access updates (97% of Templafy clients run the bi-annual update stream from Microsoft and are not affected).
We have reported the issue to Microsoft who have confirmed the bug.
 The issue can be fixed by changing a setting in Office (per application):
The below Registry Key will add the setting to Word, PowerPoint and Excel. It can be added with Templafy Desktop if a client experience it.
http://download.templafy.com/HKCU_OfficeOptionCompatabilityView.reg
 #2 Templafy must be added to trusted intranet sites
Set Automatic log-on without prompt 
Set User Authentication to Automaic log-on only in Intranet zone or Automatic log-on with current username and password. 
Path: Internet Options > Security > Local Intranet > Custom level > User Authentication.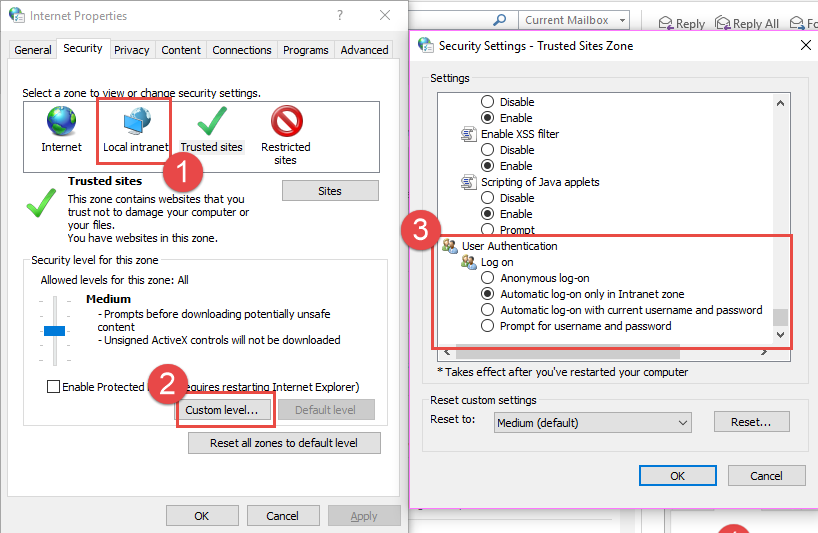 Add your domain as a trusted Local Intranet site 
Add "https://sts.yourdomain.com"  as a Trusted Local Intranet site in "Internet Options" on the local machines that are experiencing this. The settings you are looking for are shown below and can be added via GPO.
How to add it in your GPO
In your Local Group Policy Editor locate and change the following.
Administrative Templates -> Windows Components -> Internet Explorer -> Internet Control Panel -> Security Page
Under "Security page" open "Site to zone Assignment List"
Change it to "Enabled"
Click "Show"
Add "https://sts.yourdomain.com" or "https://*.yourdomain.com" and set "Value" to "1".
Click "OK"
How to include Google Chrome and other browsers to your ADFS
After adding your ADFS URL to your "Internet Options", you might want to use Chrome to acces https://yourcompanyname.templafy.com.
Stop all ADFS services via PowerShell


net stop adfssrv

Confirm that the Browser(s) you want to add are not present


Get-ADFSProperties | Select -ExpandProperty WIASupportedUserAgents

Add Chrome to the list, along with all the ones already there


Set-ADFSProperties –WIASupportedUserAgents @(

"MSAuthHost/1.0/In-Domain"

,

"MSIE 6.0"

,

"MSIE 7.0"

,

"MSIE 8.0"

,

"MSIE 9.0"

,

"MSIE 10.0"

,

"Trident/7.0"

, 

"MSIPC"

,

"Windows Rights Management Client"

,

"Mozilla/5.0"

)

Confirm that "Mozilla/5.0" is on the list


Get-ADFSProperties | Select -ExpandProperty WIASupportedUserAgents




Start up the ADFS service again


net start adfssrv