Please find all information below needed to setup SSO via SAML2
Client IT tasks
Setup a relying party in ADFS using Templafy metadata
Provide client metadata to Templafy (usually done via a download link to metadata.xml file)
Setup extended claims rules (optional)
Templafy tasks
Add following to the Templafy configuration
client signing certificate
SSO URL
EntityID
Client IT SAML2 setup guide
Below is the necessary information to setup Templafy as a relying party in your ADFS.
Metadata

 

Service Provider entity ID (Audiences)

 

https://app.templafy.com/AuthServices

Assertion Consumption Service (ACS)

 

https://app.templafy.com/AuthServices/Acs

URL to trigger SAML federation

 

https://CLIENTSUBDOMAIN.templafy.com

Hash function to use for digital signing at IdP

 

SHA-256

User Identifier

 

E-mail address

Basic claim rules

 

Claim rule

 

| | |
| --- | --- |
| LDAP Attribute | Outgoing Claim Type |
| E-Mail-Addresses | Name ID |
| User-Principal-Name | UPN |
| Given-Name | Given Name |
| Surname | Surname |
| E-mail-Addresses | E-Mail Address |

Extended claim rules

 

 

 

 
For more Claim Rules, please see the below article. It includes examples of Rule Language in Custom Claims Rules where Groups are added to the Claims.
https://support.templafy.com/hc/en-us/articles/207724789-Supported-claims-and-claims-rules
ADFS Example settings - Windows Server 2012 R2
Here are examples of a Windows Server 2012 with Templafy configured as a Relying Part Trust.
Federation Service properties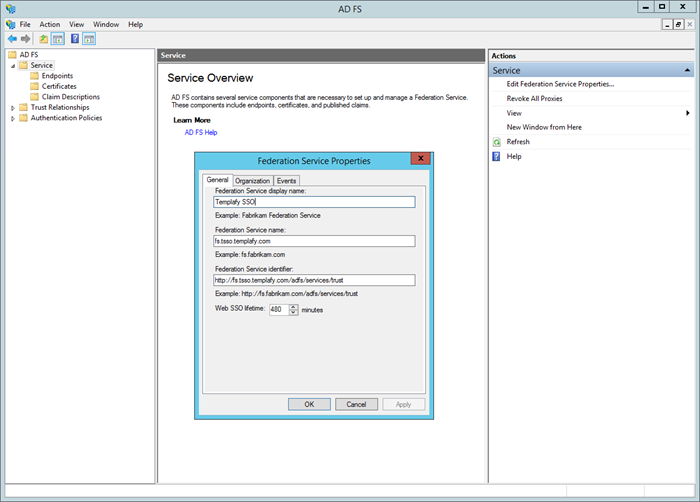 Trust Relationships - Monitoring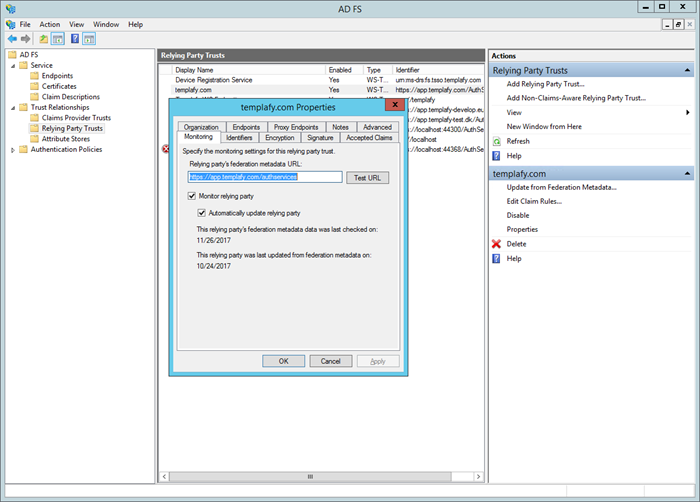 Trust Relationships - Identifiers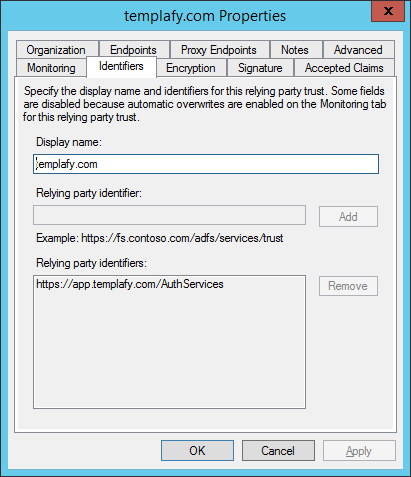 Trust Relationships - Encryption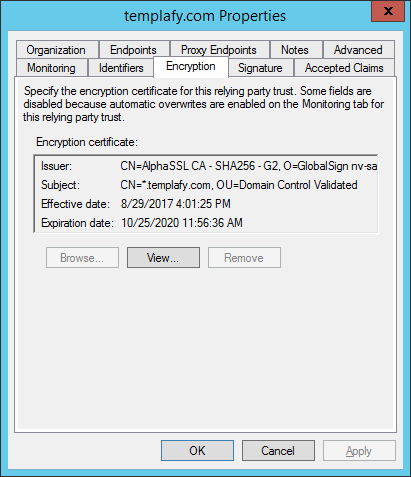 Trust Relationships - Signature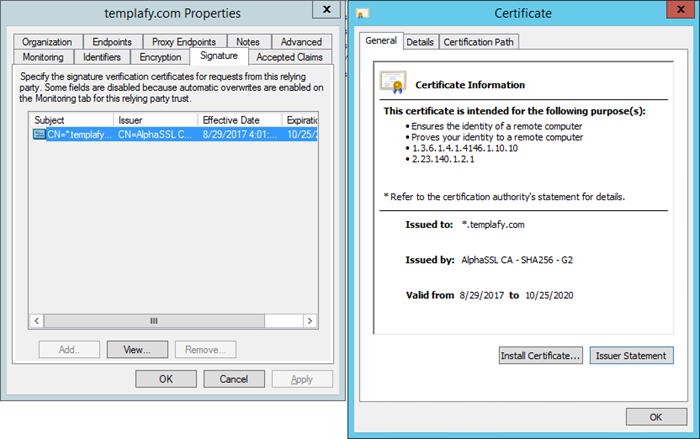 Trust Relationships - Endpoints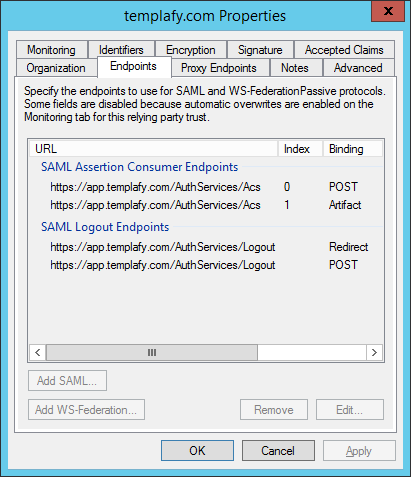 Trust Relationships - Advanced / Hash algorithm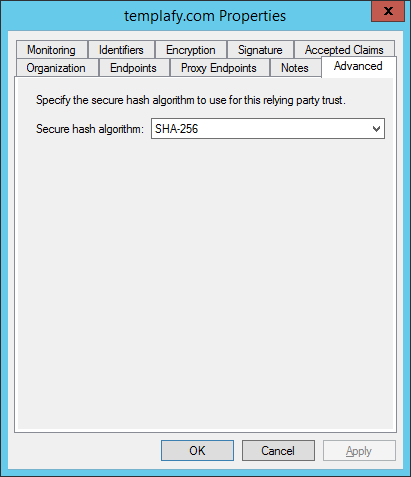 Trust Relationships - Claim Rules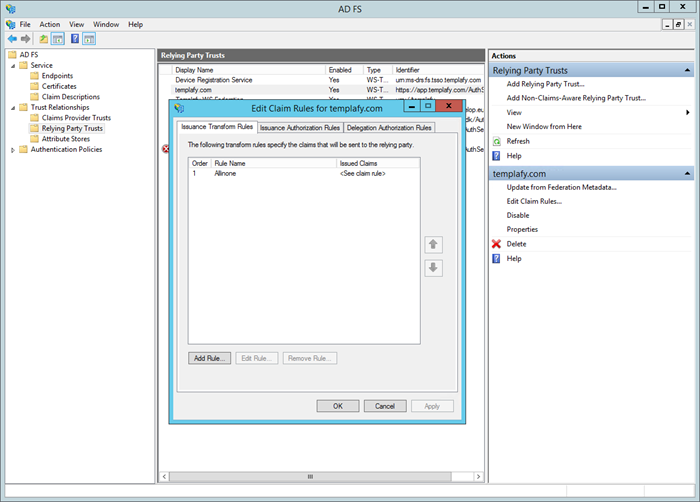 Trust Relationships - Basic Claim Rules (LDAP attribute)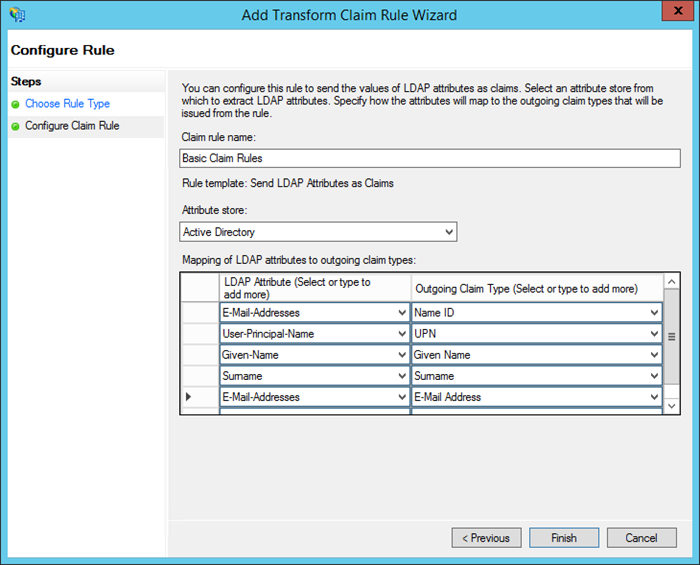 Trust Relationships - Extended Claim Rules (Custom Rule Language)
OBS! See below article for full example of Extended Claim Rules
https://support.templafy.com/hc/en-us/articles/207724789-Supported-claims-and-claims-rules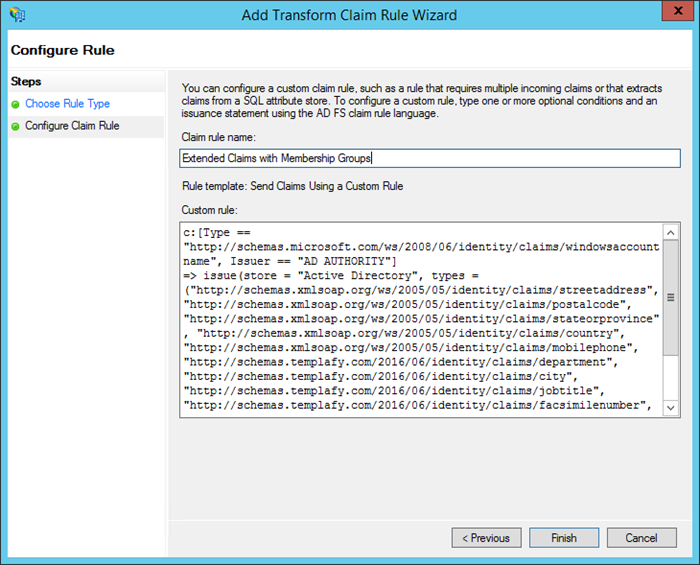 Trust Relationships - Issuance Authorization Rules