About this article
This article is aimed at helping customers and customer IT help desk troubleshoot issues and find solutions to known or common issues, before escalating the issue to Templafy. This article also provides an overview of this escalation process. Sections in this article:
Prerequisites
IT support/Help desk
Owner access to Templafy tenant
Overview of responsibilities
To assist your IT support help desk team with the transition of handling Templafy, we have provided a summary of the expected responsibilities below:
have access to Templafy -

https://tenantname.templafy.com/admin/

(as Owner role)

have rights to

provision

new users

to access Templafy via SSO

have an understanding of the customer's IT infrastructure to support users with troubleshooting

have an understanding of the Templafy support flow as described below

documenting and applying this process internally
Templafy support levels
In Templafy we differentiate between Technical Support and Content Support and have streamlined a clear process for both levels: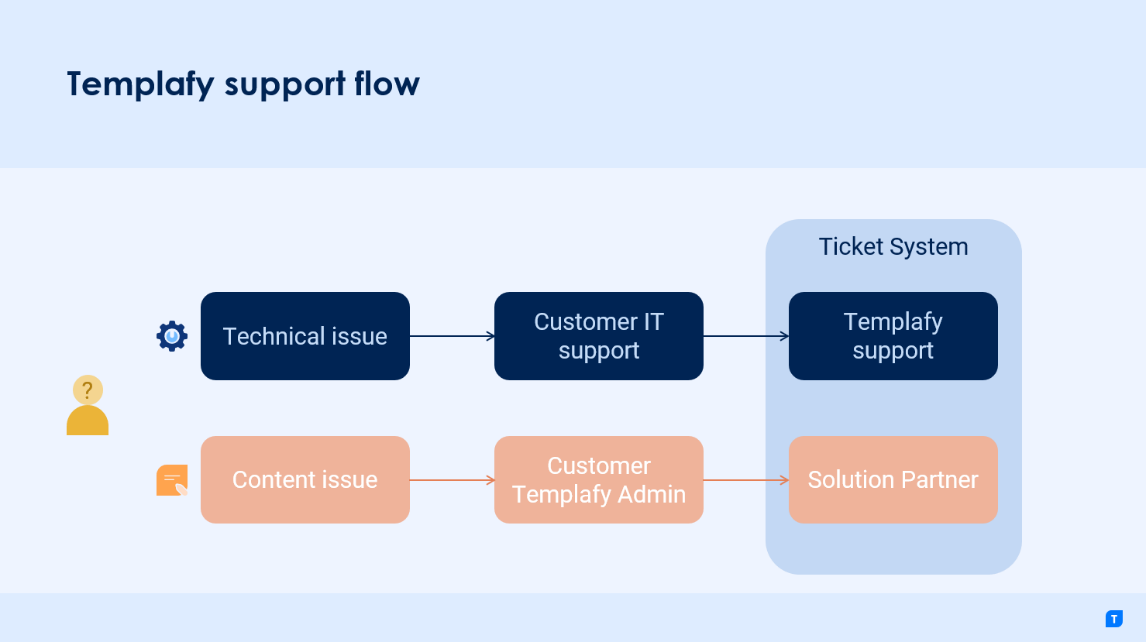 Technical Support
When Templafy software is not working as intended, please follow the process below to allow all inquiries to go through customer's own IT department, before escalating the issue to Technical Support in Templafy. For clarity:
Level 1:

Instruct

users to

contact

your

internal

IT

department

first for investigation and resolution.


Level 2:

If the

Internal

IT is

unable

to

resolve

the issue, they

should

submit

a support

ticket

to Templafy Support

using

the

following

link

(

how to submit a support ticket

)


Technical Support quick help: Level 1
Technical issues: Level 1

Is the user on PC or Mac?
For an authentication issue, provide the Templafy Desktop log file for that day: Templafy Desktop > Troubleshooting tab > 'Show log files.'
An issue with the Templafy Add-in, provide the VSTO add-in log for that Office application: Templafy Desktop > Modules tab > 'Show log files.
Has the user checked to see if the add-in is enabled/disabled in the Office application (Office application > File > Options > Add-ins > Comm add-in)?
Has the user tried restarting the Office application or their computer?
Provide recreation steps.
Provide Office version (Office application > File > Account)



Content issues: Level 1

In what Office application and which piece of content/asset (PowerPoint presentation, slide, slide element, e-mail signature, etc.
Technical Support quick help: Level 2
Common issues: Level 2

Add-in is missing: verify if the add-in is active or inactive: Troubleshooting: Add-ins are missing in Office
Performance issue, add-ins take more than 5-sec long time to load: few factors can affect the loading time of the application:

Other add-ins
The number of applications open at the same time
The computing power / how fast the computer is.
As a first step, please ask users to restart their machines

Templafy Library add-in is not in Outlook online or Outlook on Mac: it is expected because of the feature differences between VSTO and Web add-ins: please check Which templates and assets are available where?
Authentication issues: Level 2

Add all required users to the authentication app in Azure.
Ensure the user has SSO access through SAML2.
Confirm that the user has not been manually invited to Templafy.
Office add-ins issues: Level 2

If Templafy software is not functioning correctly, try restarting the office applications or rebooting the system.
Make sure Templafy's prerequisites are met before installation.
Email Signatures issues: Level 2

For email signature issues, restart Outlook and follow the onboarding guide.
Add all required users/groups to the Exchange rule to set up the email signature server. More information can be found here.
If you encounter any deployment issues, deploy MSI to all users and monitor the installation process. Additionally, debug any deployment issues that may arise.
Templafy Desktop issues: Level 2

Templafy Desktop is the program responsible for configuring and maintaining the Templafy Add-ins
It is a small bootstrap program that silently runs on every user's machines
It performs authentication of the user (via single sign-on through Azure AD), displays information about the add-in versions, has shortcuts to log files, and connects to the tenant if new versions of the add-ins need to be configured
Can be found when searching "Templafy Desktop."


Content Support
If you need assistance with content configuration or ongoing improvements, contact your content Admin. They are experts in Templafy templates and deeply understand your environment.
Content support is n

ot necessarily

included

in

your

contract and is not handled by the Templafy Support team
Related articles