Depending on the version of Templafy Desktop client, you will have either of two user interfaces for Templafy Desktop explained below, which means that the steps for Check for updates are slightly different.
In the article we will cover how to manually Check for updates in each of the two Templafy Desktop user interfaces and list how Templafy Desktop automatically runs updates.
Automatic updates
Templafy Desktop automatically checks for updates:
Every 24 hours
At every reboot/start
If the PC is never turned off, a scheduled check for updates will attempt to start at midnight (local time)
If the PC is in sleep or hibernation, then the scheduled update will run when the PC wakes
With Templafy Desktop Client version 2.3.0.1130
To initiate a manual Check for updates, you need to launch Templafy Desktop from the start menu in your Windows computer.
When you do, you see a similar interface to below image, from where you can click Check for updates: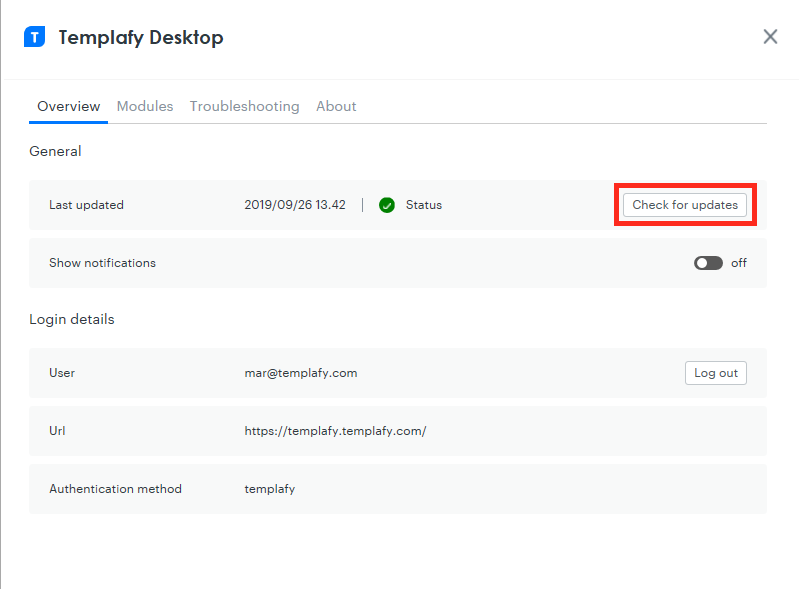 With Templafy Desktop client version earlier than 2.3.0.1130
To initiate a manual Check for updates, you need to locate the Templafy Desktop icon in the Windows system tray. Click on Check for updates. Once it's updated, a pop up message confirms the update.