About this article
This article explains the functionality of User Groups from an Admin/Owner perspective. The sections of this article will cover the definition of what User Groups are, how to set them up, and what they are used for. By default, four system groups are created in the tenant.
Sections in this article:
Pre-requisite
What are User Groups?
A User Group within Templafy is created and managed by Templafy Admins. User Groups are used to enable or distribute and filter features to a certain set of users. By creating a User Group you are setting criteria a user has to match with in order to be able to access a certain feature.
What are the System User groups?
By default, on tenant creation, Templafy is automatically creating four user groups :
Everyone:

All users with access to this tenant

Internal:

All internal users of this tenant

Invited:

All users invited to this tenant

Partners:

All partner users with access to this tenant
How to set up User Groups
Go to Users tab in the left-side menu of the Admin Center
Go to User Groups tab
Click Create
Name your User Group and hit Next
Once you have created your User Group, you can then start to add one or more criteria. Criteria can have multiple conditions.
What does the tab Add criteria mean and how do I set up conditions
Criteria are essentially filters that can be set up for a certain User Group, these criteria are based on the claims and the security groups received by your Active Directory. When you set up a User Group then the users will be filtered based on the conditions that are configured in the User Groups.
After configuring the conditions click Create. You will then see your User Group in an overview section where you can access all User Groups configured on your Templafy tenant. In the example below, we have set up a User Group called User Group 1 . On the right-hand side, you can see the Group`s properties, such as name, description, and the filter(s) that have been configured. By adding a criteria you can specify certain conditions. In the example shown below the criteria City was set and the conditions were configured to either Copenhagen or New York . The result is, that User Group 1 consists of members from either Copenhagen or New York. OR acts here as a parameter and means that only one of the two conditions has to be true.
As previously mentioned, it is possible to set up more than one criteria for a User Group. If you have multiple criteria the parameter is AND. That means all conditions have to be true in order for the filter to be assigned to the user.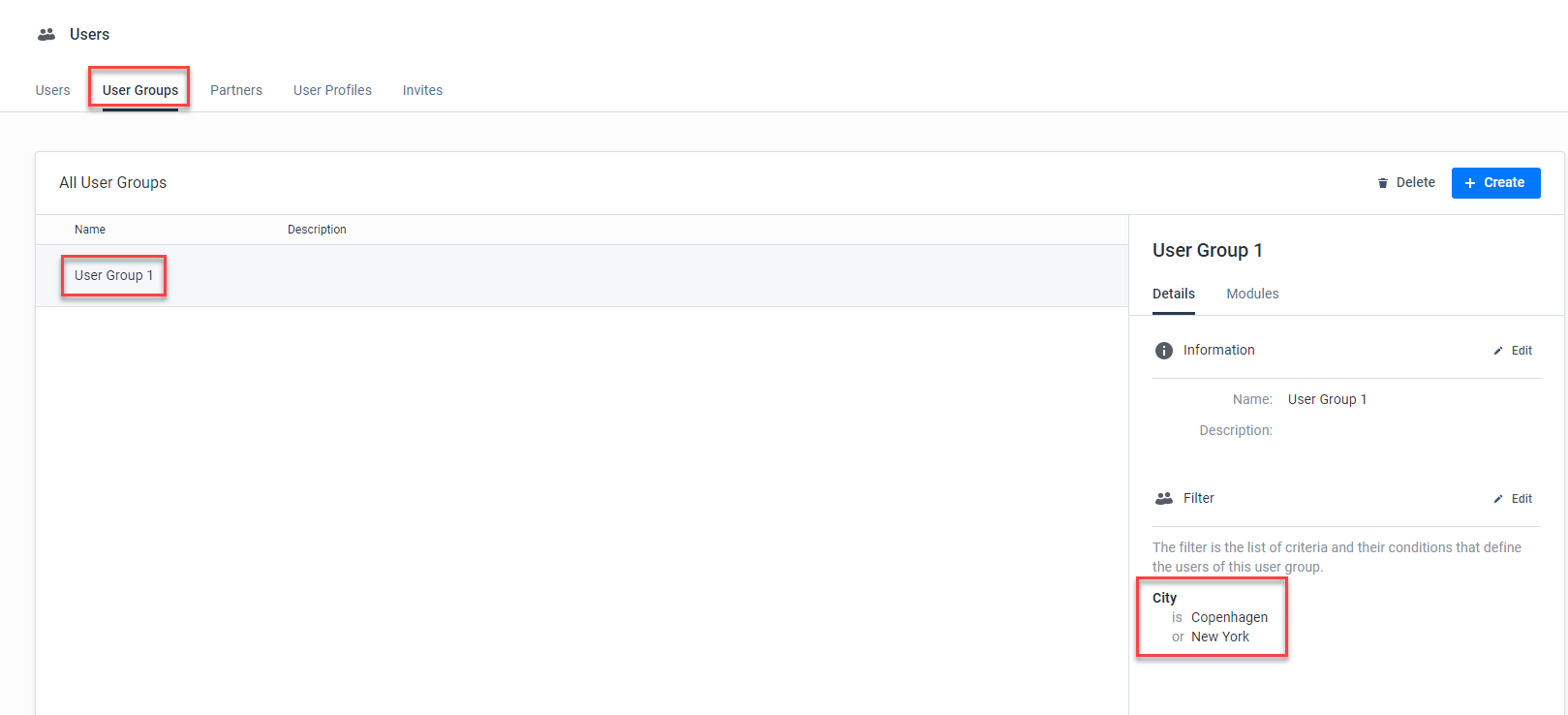 If you ever need to, you can always edit a User Group and add more criteria and conditions.
Related articles