About this article
This article is explaining how to configure and set up Azure AD as an authentication method and the article is targeted to owners or partners on the tenant.
Pre-requisites
Updated to Templafy Hive
Admin or Owner rights on the tenant
Customer's metadata (Domain hint and TenantID) at hand
Set up authentication method
Go to Account tab in the left-side menu of the Admin Center
Go to Authentication tab
Click on Add authentication method
Type in the name of the Authentication Id in postfix
When using multiple authentication methods, you will be asked to assign a user-friendly name to the Login Button
Select AzureAD in the drop-down
Fill in the Domain hint and Azure Tenant ID
Review the validity of the information and click Save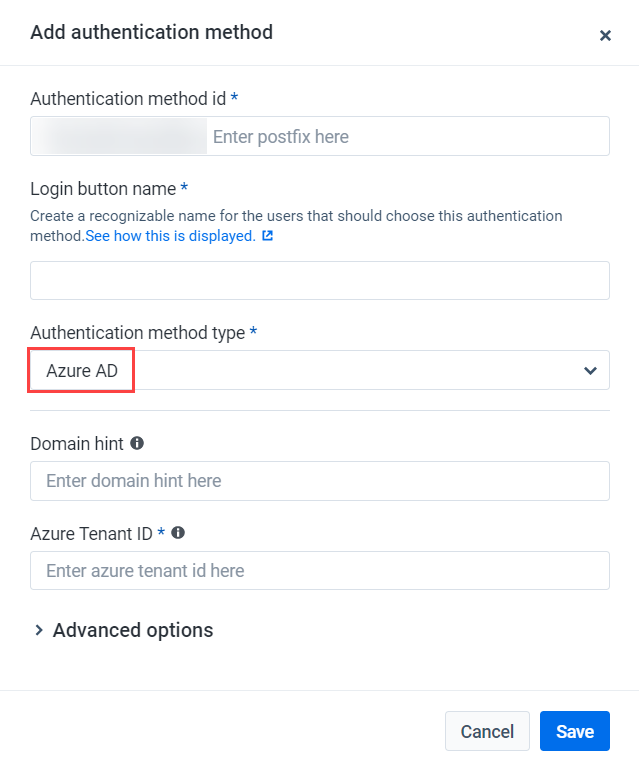 Authentication Method Id
The Authentication method ID is a unique and non-editable value used to identify the authentication method itself. This is a required field and can be referenced as an installation parameter in Templafy Desktop deployment or distributed via Registry key. By doing so, users will not have to select an authentication method each time Refresh Token is being renewed and the login shall succeed quietly without their interaction
Login Button Name
This name will be shown to the users when logging into Templafy. Users will be asked to select their respective authentication method. It is therefore imperative to give it a meaningful and distinctive name to better guide them through the login process. To get more information how this is displayed to the users, kindly refer to the article Multiple authentication methods- end user perspective
What is Domain hint?
Every Azure Active Directory can be connected with one or more DNS domains. Usually, the default domain format assigned by Microsoft is "mycompanydomain.onmicrosoft.com". More often than not, however, the primary domain is set to be the same as your email domain "mycompanydomain.com"
If you are not certain which domain to provide, you can always check for your primary domain in Portal.azure.com > Azure Active Directory > Overview > Tenant Information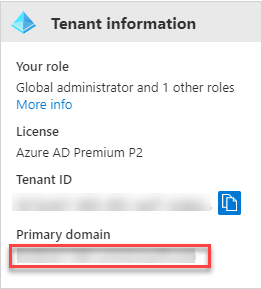 What is Azure Tenant ID?
Tenant ID is a globally unique identifier (GUID) that is different than your tenant name or domain. It can be found under Tenant properties in your Azure portal.
To look it up you need to navigate to Portal.azure.com > Azure Active Directory > Properties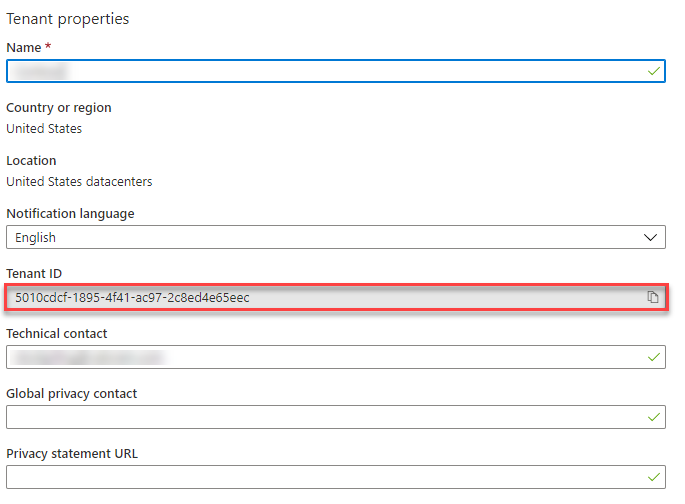 Advanced options
At the bottom of the settings page you will find the Advanced options section.
Here you can restrict access to specified email domains in the Restricted domains setting. Or you can restrict access based on discriminator claims.
Note:

Templafy does not directly provide multi-factor authentication capabilities, however, customers are enabled to do so when they opt-in for SSO. Multi-factor authentication option is specific to the IdP and Templafy doesn't act as an IdP in the context of Single Sign-on.
Related articles