About this article
This article is mainly targeted towards admins or IT department trying to troubleshoot issues regarding the Templafy Email Signature.
Please ensure that all the following use cases are tested before escalating the issue further.
Prerequisites
 

Ensure active Email Signatures
Successfully installed Templafy Desktop Client
Templafy Office Add-ins successfully added 
If need be, disable other Outlook Add-ins temporarily
Before in-depth troubleshooting please contact your Templafy SuperAdmin / local IT department to ensure that there is an active Email signature for both new and reply emails. 
Please ensure that the Templafy Desktop Client launched successfully, the user is logged in and the client is updated.
Check if Templafy add-ins are enabled in an Office application.
Email Signature does not get created or updated
Use case 1
If the email signature doesn't get created or updated correctly, resetting Windows Apps to default settings (Windows 10) can be carried out. To do so, please follow below steps:
Click on the Windows Start Button
Navigate to Settings, and choose Apps
On the left hand side, choose Default apps
Scroll down and click on the grey button Reset 
Scroll up and choose Outlook instead of Windows Mail as the default Email app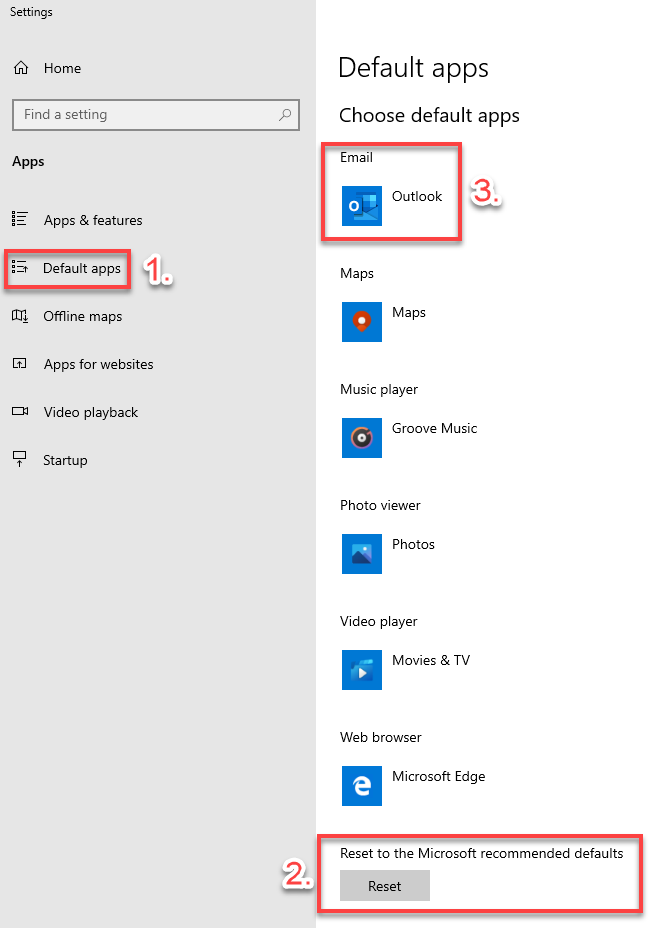 Use case 2
Another set of troubleshooting steps to carry out is trying to remove leftover/old signatures. To do so, please follow below steps:
Open File Explorer
Navigate to the folder path of Outlook signatures: %AppData%\Microsoft\Signatures
Create a new folder called e.g. "Signatures old"
Copy paste all existing files and folders from other %AppData%\Microsoft\Signatures  into the new folder "Signatures old" %AppData%\Microsoft\Signatures\Signatures old

Use case 3
The next set of troubleshooting steps to carry out is to ensure that no document type restriction are in place:
Open MS Word.
Click the File tab.
Click Options.
Click Trust Center, and then click Trust Center Settings.
In the Trust Center, click File Block Settings. Ensure that the boxes for RTF Files and Plain Text Files are unticked.
Download the attached HTM file test – Copenhagen
Right click on it, then select Open with and choose Word
You may be prompted with a message about default application, please select yes.
Once the file is open in Word, navigate to File then Save as and change the file type to Rich Text Format (*.rtf). You might be prompted with Microsoft Word Compatibility Checker, please select Continue.
Please contact your local IT department if this conversion fails.
Use case 4
These sets of steps can help if Outlook does not save any manually created signatures or does not open if "Templafy Email Signature add-in" is enabled. This is caused by Outlook not being able to access the folder containing the Outlook signatures.
Open Windows search bar and type "Registry Editor"
In the top search bar add the following path: Computer\HKEY_CURRENT_USER\SOFTWARE\Microsoft\Office\16.0\Common\General
Locate registry key named "Signatures" and double-click on it.
Copy the "Value data" contents and save it in a notepad or another text editor.
After saving the value, change it to "Signatures" and press "OK"
After the above steps are undertaken, please open Outlook and wait a moment until you see the Templafy notification "Your email signatures were updated" in the bottom right corner of Outlook. Than proceed to create a new email to confirm the signature is correctly created.

If the above steps are unsuccessful, please send the VSTO Outlook log files to Templafy Support for further investigation. Steps to access VSTO log files can be found in the article below article "Find Templafy log files".
Use case 5
If Outlook Signature settings looks like the below screenshot, then Microsoft "Roaming Signatures" is enabled. Email Signature distributed through Templafy Desktop (VSTO add-in) will not work if Roaming Signatures is enabled. (Roaming signatures was made available from Office 365 version 2208)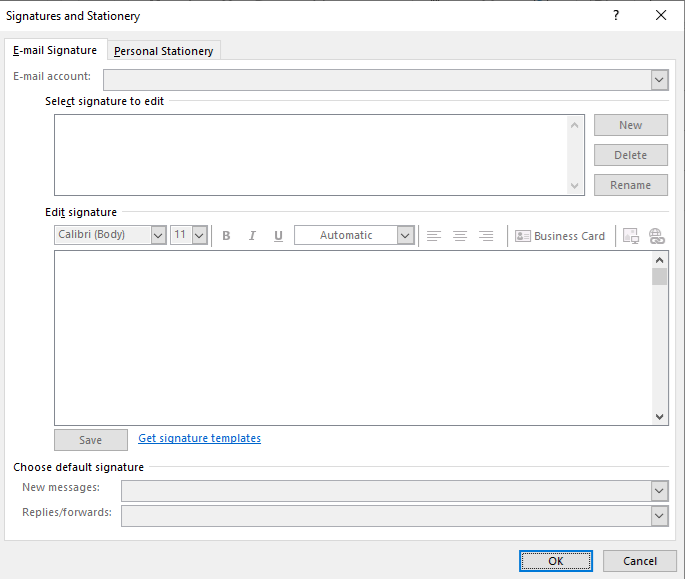 To DisableRoaming signatures, download the ZIP file called "DisableRoamingSignatures.zip" further below.
Double click the registry key to get the keys added.
After that, the device needs to be restarted
More can be read here about Outlook Roaming Signatures
Use case 6
Templafy Email Signature is dependent on the:
Microsoft VBA for Outlook Addin
The VBA Outlook Addin is used for the insertion of the signature in New Emails and Replies & Forward emails as well for the Internal/External audience detection.
To check if the add-in is enabled, please:
Open Outlook
Click "File"
Click "Options"
Click "Add-ins"
Select "Com Add-ins" in the dropdown beside "Manage" and then click the button "Go..."
It should look like the below screenshot.
If you do not see it in the window, try to open Outlook as an administrator and follow the above steps again.
If you still do not see the add-in, it can be reinstalled by an "Online Repair" of Office. A "Quick Repair" will not reinstall the VBA add-in.
Guide for repairing Office: Repair an Office application

If it is still not installed after following the above steps, the Internal IT department will need to be contacted as Office can be installed without installing the VBA add-in. See the article below:
Considerations for disabling VBA in Office



Relevant articles