About this article
This article will explain how to configure and use the Templafy app in Teams. As an end-user, you can use the Templafy Teams integration to directly access your Templafy documents/presentations/spreadsheets and create them directly from Teams. This article will cover:
Prerequisites
| | |
| --- | --- |
| | This is an end-user guide, so if you don't have Templafy available from Teams, please contact your local IT. |
Add Templafy App from the left side of Teams
Navigate to apps on the left of teams, select and add Templafy.




Add Templafy App as a tab in a channel
Navigate to either Chat or Teams tab from the left side panel and click on the +




Choose Templafy from the list or use search to find the app




Add the Templafy app




Fill out Templafy Tenant ID, which is the name of your company's Templafy tenant. Furthermore, you can choose which path should be the default one, meaning if you want to open Presentations/Documents/Spreadsheets as the default library.




Tick or untick the Post to the chat about this tab as you wish. If you tick it like below image, participants in the chat will be able to see the Create Document in the chat feed




As with any message written in the chat, you can then add reactions or access the more options button if you wish to eg. edit/delete etc. this message




Finally, you can add the Templafy app as another tab if you want to open another default library folder like Presentations or PDFs for instance. You just need to repeat this process.
Add Templafy App as a tab in a chat
Initiate a new chat by clicking the New chat button
After you have started a new chat, and still haven't sent a message to your chat participants, your chat is in draft mode and you see a similar window like this:




Please type a message to your chat participants before getting the option of creating a document and sharing it directly in your Teams chat.


Then click on the + sign




Add Templafy






Configure the app in the same way as before when setting up Templafy in a channel.




Once the app is added as a tab, and if you have ticked the box for confirmation, there will be a confirmation in the chat about it.




Using Templafy in a channel or chat tab
First and foremost, you can see which teams you're added to in your organization from the list of Your teams if you click on Teams in the left side panel, like seen here:




When are in a channel, you can visualize now the Templafy Create Document button. If your company has Single-Sign-On set up, then you will be authenticated directly if you're already logged in to your Templafy account in the web browser or your Microsoft account. When you are successfully logged in, you can access the Templafy WebApp, similar to opening Templafy in a web browser.




You can now Create Document from any of the available Libraries and folders, you have access to.
Renaming or removing the Create Document tab from Teams can be done by clicking the arrow on the tab:




If you choose Rename Create Document, you can edit the name in the next pop-up window:




If you choose Remove, you can confirm your action in the next pop-up window:




Using Templafy in a chat box
When composing a message, the Templafy integration can also show up below the Type a new message editor at the bottom.




You can use Templafy in the same manner as if you are accessing it from a channel or chat tab. The difference is that once you have finished the document, you can send it as part of your message like shown here:


How to create documents?
Click on one of the Libraries, e.g. the Document Library
The next step is choosing your template from one of the folders you have access to:




In the example here, we choose the Blank document and can either choose Other actions or Save back to Teams:




Other actions leads you with options such as: Open in Word, Save to Desktop or Share via a Delivery Connector, if such has been set up:




Choosing Save back to Teams opens your Blank document and Templafy can be directly accessed from Teams:


Troubleshooting
The Saving file to Teams... is stuck. This could indicate an issue with the Azure AD Enterprise Application permissions. To fix this,

navigate to the Azure AD enterprise application called Templafy Teams App, select the Permissions tab on the left-hand side of the page and grant admin consent to all permissions

.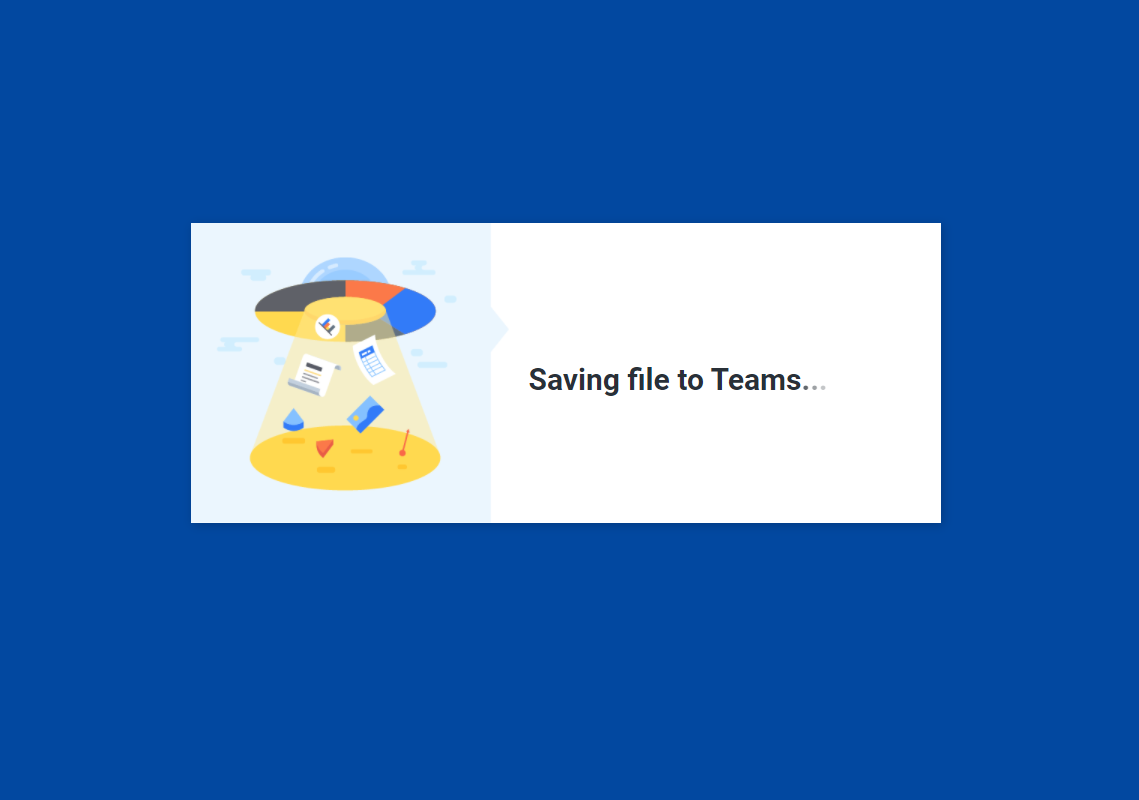 Related articles