About this article
This article will explain how to work in the HTML editor in the Admin Center's Email Signature section. Sections in this article:
Prerequisites
Templafy Hive
Admin rights to your Templafy tenant
Email Signature module enabled
How to work in the HTML editor?
Go to the Email Signature module in the Admin Center.
Click on Signatures and click on any signature you wish to edit.
Go to the Details tab and click Edit.




Insert your HTML in the editor.


Validate HTML
You can validate your HTML by clicking the Validate HTML button at the bottom of the HTML editor. If any errors are detected, they will be displayed in the Validation result window.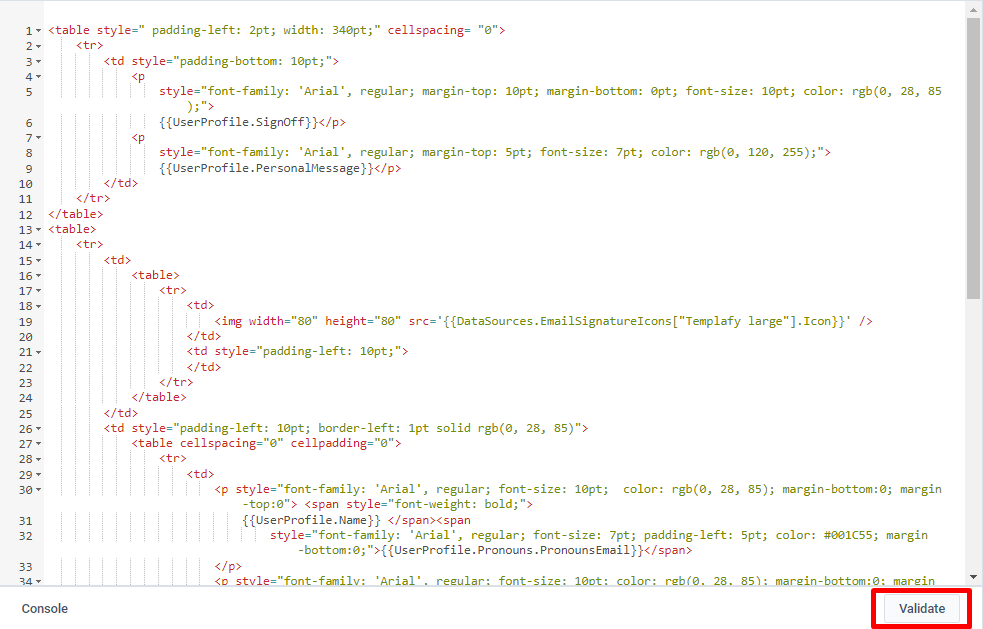 If the written HTML code is within the rules of the validator the validator result will state: "Your HTML is valid. You are good to go":

Code, Simple, and Full preview
While editing your HTML code you have the possibility to get a real-time preview of the HTML code via "Code", "Simple", and "Full Preview". All 3 previews can be found right under the HTML editor.
| | |
| --- | --- |
| | Please notice, if the preview is not available as explained in the article you need to click the dropdown to toggle the preview. |
The code preview
Shows the immediate output from entering the HTML code in the editor. By using the code preview any obvious errors can be detected if the code is not entered correctly. The preview is essentially a "front-end" version of your HTML code. The code preview gives an overview of the dynamic text elements based on the HTML code:
The simple preview
Allows you to see how the signature looks with information coming from a user profile. This means the simple preview will display the signature as it would be displayed in Outlook, Office365, etc. However, this will exclude the top/bottom campaigns and disclaimers.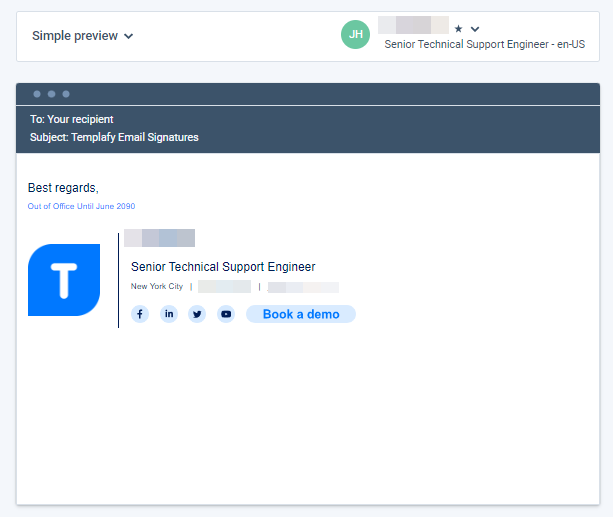 The full preview
Shows the entire preview of the signature including any campaigns or disclaimers as well as the main signature. It will highlight the parts that are not included in the main signature (top/bottom campaigns/disclaimers) for the first few seconds after this view is selected. You are also able change the target audience (internal/external) via a dropdown as well as new and reply.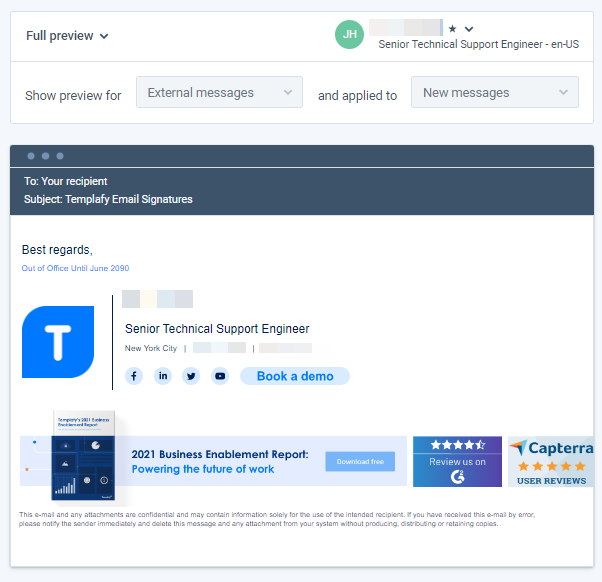 The full preview will only render other parts that are active. (e.g., an inactive disclaimer will not be displayed when accessing the full preview of a campaign)
An active main signature is mandatory to preview the full signature, otherwise the admin will be presented with an error message.
Different email clients may render signatures differently from each other.
Related articles