About this article
This article will explain the tab Library configuration in the Admin Center and how customize the names of your different libraries, upload a blank template, enable AI tagging and enable which template libraries should be active for end-users in the WebApp. Sections in this article:
Prerequisites
Admin access to Templafy tenant
Templafy Hive
Library module enabled

What is Library configuration?
Library configuration is a settings page, from where you can:
customize the names of your different libraries
upload a blank template for the three template libraries; Documents, Presentations and Spreadsheets.
Enable AI image tagging
Enable which template libraries are active for end-users through the WebApp
To access Library configuration, please go to the Admin Center and click on Library configuration: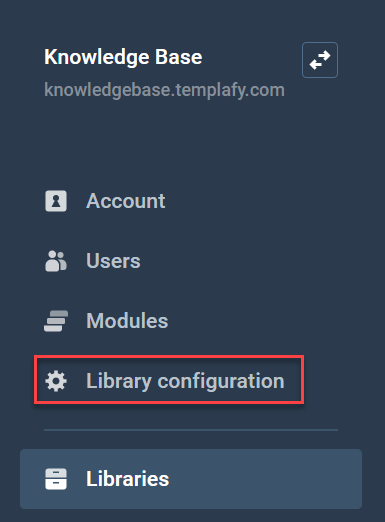 How to edit the names of your libraries or upload blank templates?
AI tagging of images
On the top right corner, you have a More actions ellipsis menu. In this section, you can access Settings and enable AI tagging of images. To do so, please follow below steps:
Click on More actions
Click on Settings
Click on Edit
Tick the box for AI image tagging
Click Save




Active template libraries
On the top right corner, you have a More actions ellipsis menu. In this section, you can access Settings and enable or disable which template libraries should be active for end-users. To do so, please follow below steps:
Click on More actions
Click on Settings
Click on Edit
Tick or untick any of the three boxes to either enable or disable template libraries




Click Save
Please note, that disabling a template library will have the following effect:


The template library won't be visible in the WebApp but will still be accessible in the Admin Center.
Distributing a blank template for the disabled template library will still be possible through the Library configuration tab but won't have any effect until the template library is enabled.
The library buttons (Create a blank X and Browse and bluid your X in the Home tab of Office won't be visible (VSTO add-in)
The Start new X button in the Library task pane won't be visible (VSTO and web add-ins)
Related articles