About this article
This article will explain the known error message:
Processing this document failed. The document can not be uploaded as template, it is a document generated by Templafy displayed in the Admin Center when admins try to upload a document generated by Templafy.
Creating a template from a document created as an end-user is not currently supported, which triggers the below error message.
Prerequisites
The error message
When admins attempt to upload a document generated by Templafy to the Library in the Admin Center, the upload will fail with the below error message displayed: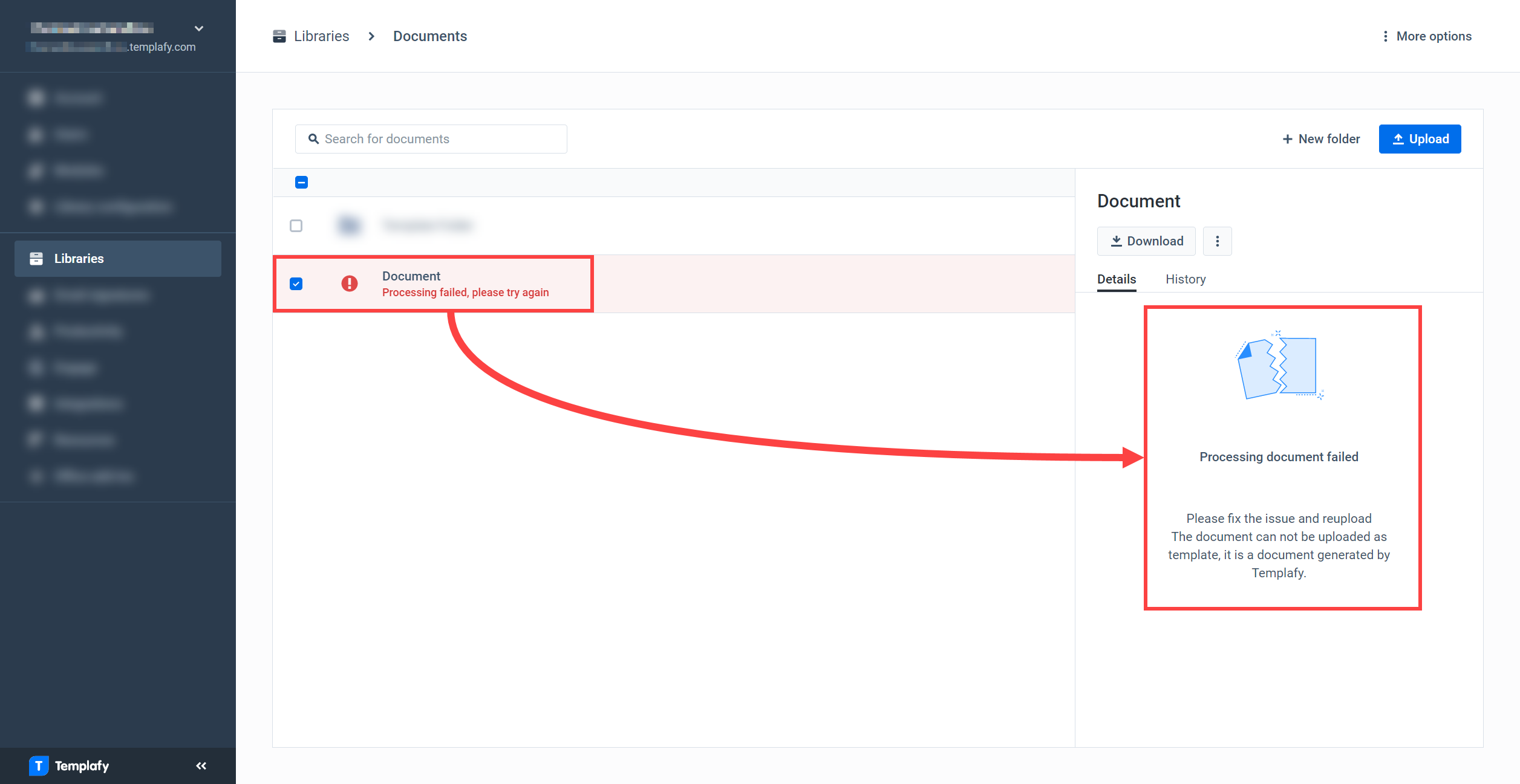 This error message occurs because the admin attempts to upload a file that was generated from the end-user interface of Templafy. When a dynamic template has been downloaded by an end-user this is now a personalized document which is essentially why it cannot be reused as a template.
You will also see below error message, if you navigate to the Templafy task pane and click on the ellipsis menu to open up the Template Designer: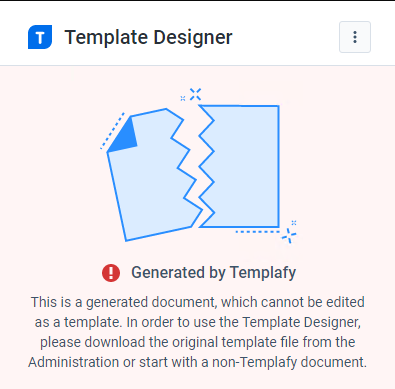 | | |
| --- | --- |
| | To reuse an existing template to create a new template, make sure to download the template from the Admin center. Modify it and upload it as a new template or replace the original in case of an update. |
How to clean up the file if the validation error occurs?
When this error message occurs, admins can use the below workaround to clean up the document, so it can be reuploaded to the library in the Admin Center.
Open the file (Word, PowerPoint or Excel)
Go to the File tab
Click on the Info tab
Click on the dropdown Check for Issues in the
Inspect Document,Inspect Presentationor Inspect Workbookoption
Click Inspect Document
Click Remove All next to the option Document Properties and Personal Information




After removing the Document Properties, save your file and give it a new name
Reupload to the Library in the Admin Center of your tenant
| | |
| --- | --- |
| | Keep in mind that the above is a workaround that can result in unexpected behaviors for dynamics documents. We highly recommend to download the original template/document from the Admin Center, make the changes and upload/replace the document. |
Related articles