About this article
This article describes how you can further restrict access to Templafy, based on specific user attributes, even if the they reside in the same Identity Provider.
Prerequisites
Admin or owner access in Templafy tenant
SAML2 or Azure AD (OpenIDConnect) authentication method in the Templafy Admin Center.
How to configure discriminator claims for SAML2 or Azure AD authentication methods?
Go to Account tab in the left-side menu of the Admin Center
Navigate to Authentication tab
Click the Edit details button for the Authentication method you want to edit.
Scroll down and click to expand the Advanced options to display the advanced settings.
Select one of the below discriminator claims in the Discriminator claim name dropdown:

city
companyName
country
department
groups
state
customClaim (up to 15 custom claims - SAML2 authentication only)

Fill in one or more discriminator value(s), use a comma when you want to add multiple values (e.g., country = Germany OR Switzerland OR Austria).
Press the Save button to save your settings.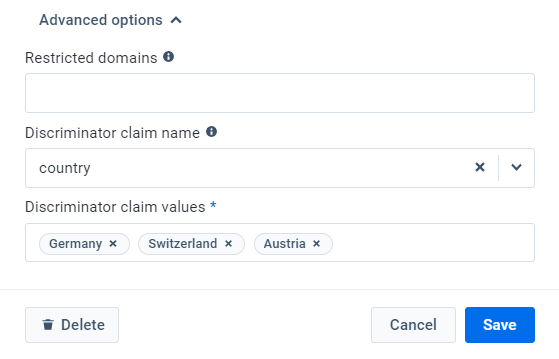 It should be noted that:
One cannot edit their own authentication method except for the login button name

Only the claims available in the dropdowns can be used as discriminators.
Only one discriminator claim can be set, but more than one value can be added (the operator will be "OR", e.g., country = Germany OR Switzerland OR Austria).
Claims containing a comma will not be working ( "," is used for separating values in the admin when creating multiple values)
Custom claims are currently only available with the SAML2 authentication method
Claims are synced from the Active Directory upon user logging in to Templafy
Claims are updated upon renewal of the Refresh Token, which is valid for 24h regardless of the IdP.
If SCIM is in place, the creation and subsequent updates to claims will happen every 40mins.
Related articles