About this article
This article explains how access to multiple Templafy tenants for a user can be setup and how to access them.
Prerequisites
| | |
| --- | --- |
| | Access to multiple Templafy tenants |
Multiple Tenant Access for Users and Partners
You will be able to add the same user with the same email address to a different tenant

If both tenants use email authentication or invites, the

credentials (passwords) will not be synced across the

tenants and will remain independent from one another

​

Users being part of multiple tenants will show up in the

Users list (not in the Partners list as Templafy/Partners)

​

Partners should still be invited through the Partners tab

​

In the WebApp, a new UI will be introduced allowing users

part of multiple tenants to access the desired one
Switching between tenants in the WebApp​
In order to switch between tenants on the WebApp, the user will need to logout first. As soon as the user tries to login back to the tenant, they will be presented with the UI to choose between the tenants they need access to.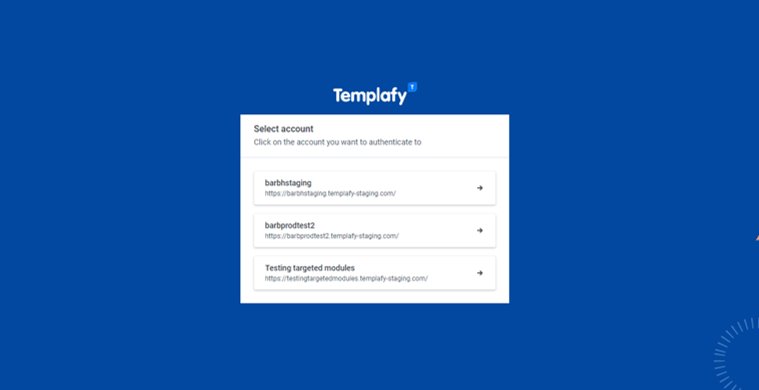 Templafy Desktop​​
Accessing the different tenants will require uninstalling and reinstalling of the correct MSI​
Web add-ins ​
As manifest files are tied to a specific tenant, accessing different tenants through web add-ins will require separate manifest files​​
Authentication methods are not synced between the tenants

One can still only be authenticated with only one authentication method per tenant, however different authentication methods can be used on the two different tenants
Related articles