About this article
In this article, we will explain what Corporate Terminology is and what the difference is between Prefer
terms and Avoid terms.
Prerequisites
Check and Corporate terminology modules enabled

Productivity add-in version

5.0.1060.0/5.1.

x or above

Corporate terminology plugin version 1.0.4.0 or above

Templafy desktop version

3.4.65

or above
| | |
| --- | --- |
| | Corporate terminology is not supported with Server mode. |
What is Corporate Terminology?
Corporate Terminology is available via Productivity tab in the Admin Center and allows controlling the language used by employees. The admin can set undesired words to either be autocorrected or be flagged to users to ensure they are using the correct wording in their correspondence.
Some known use cases might be:
Make sure your own or regular client company name is spelled exactly as it is supposed to, with correct capitalization, etc.
Help your colleagues to maintain a desired tone of voice. Eg. gender-neutral language
Make sure terms that promise too much are avoided. Eg. 100%
Make sure commonly used abbreviations are spelled out, so everybody understands. Eg. TBA becomes to be announced.
What does Corporate Terminology do?
Corporate Terminology uses Templafy Desktop to inject a list of Terms, added through the Templafy tenant Admin page, into the Microsoft Office dictionary - without any need to involve the internal IT department. Within Corporate Terminology in the Admin Center, one will be able to add, edit, or delete terms that should be preferred or avoided by end-users. The idea is for this list of terms to be easily managed in one interface, facilitating management and expediting changes.
Once a term has been added - they only need to be published, after which they will be available after the next Templafy Desktop update on the user-end (can take up to 24 hours).
You can decide whether certain terms should be 'Preferred' or Avoided'.
Difference between 'Prefer' and 'Avoid'


When adding a new term, you can choose what type of term it should be - Prefer or Avoid.



Prefer - terms set as Prefer are added to the Microsoft Office dictionary and therefore not underlined in red in Office applications. In PowerPoint, Word, Excel, Outlook, and OneNote, Prefer terms can be set to autocorrect and Office will directly change it when users type one of the Related terms. In this example Templafy is set as a Prefer term, and Tempalfy as a Related term, that should be autocorrected Microsoft Autocorrect:



In the case of Prefer terms, the related terms are the ones that should be avoided by users - for example, if users shouldn't be writing Templify, Templify should be added as a Related term when adding Templafy as a Prefer term.
If not set to autocorrect, the word will still appear as a suggested correction when utilizing "Spelling and Grammar" in Office applications, and will also be flagged when using Check for PowerPoint:




Avoid - terms set as Avoid will be flagged to users when they run the Check in PowerPoint. Check will then suggest the user to change the term to one of the Related terms. In the example below Chairman is set to Avoid, and the Related term Chairperson is suggested as an alternative: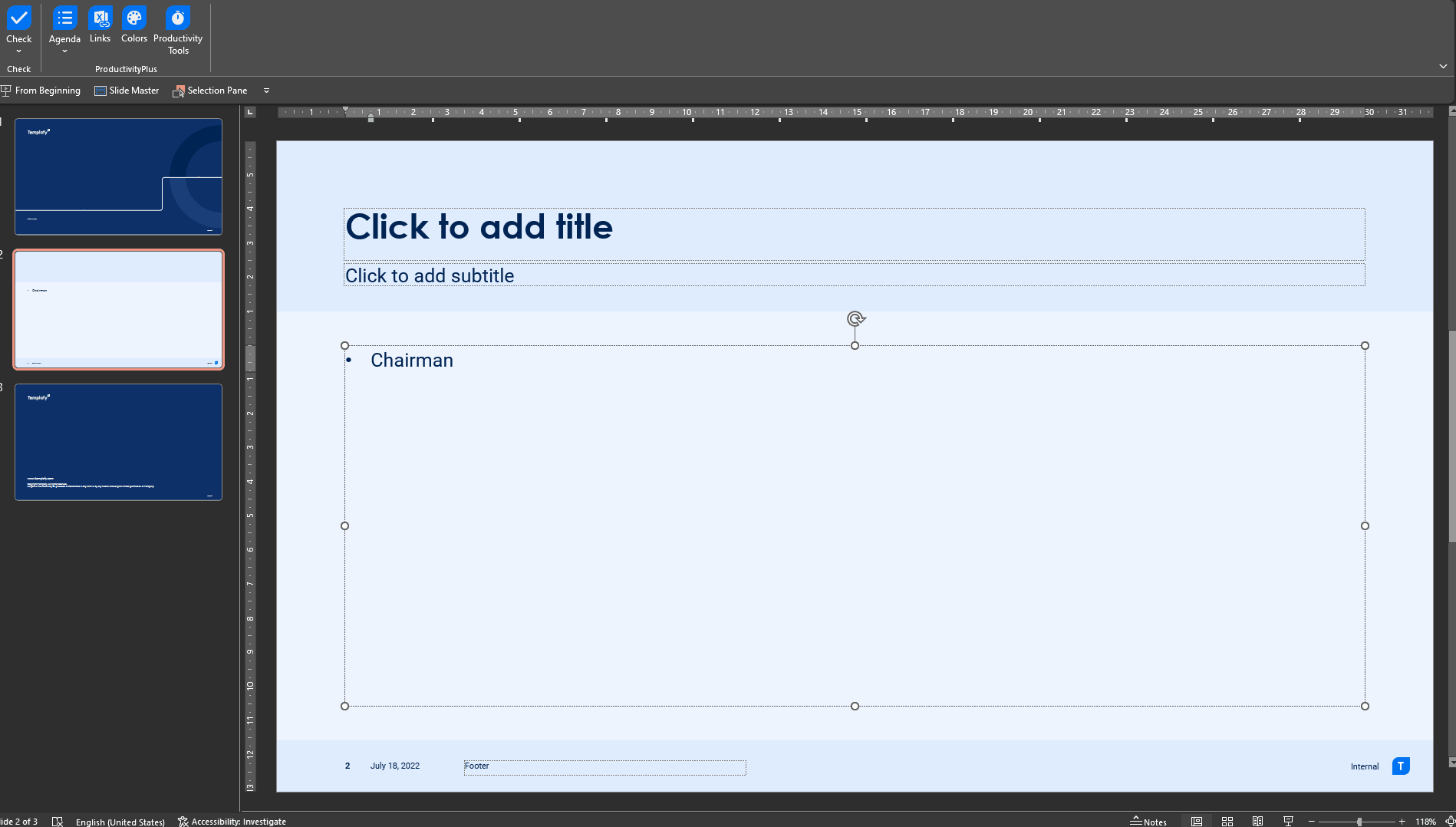 Note - Avoid terms will only be flagged in PowerPoint when using the Check for PowerPoint feature, and cannot be used in Autocorrect.
| | |
| --- | --- |
| | Clicking Publishwill instruct Templafy Desktop to distribute the terms to the end-user with the next Templafy Desktop update. If Publish isn't clicked, the terms will not be distributed to end-users. |
Related articles