About this article
Spaces is a module in the Admin Center and functions as smaller versions of the Library. This article will explain what Spaces are and how they can be used.
Prerequisites
Tenant owner access in Templafy tenant
Library & Spaces module enabled
What are Spaces?
Spaces function as smaller versions of the Library module, which means each Space has its own Space owner(s), its own members, and its own template & asset libraries. The administration of content and members can be siloed, each Space owner will be able to edit the content and members of the Space they are assigned to. Using the Spaces module will allow the creation of the number of Spaces needed and allocate the relevant owners to the right Space.
| | |
| --- | --- |
| | For end-user, Spaces will be reflected as a folder |
Spaces allow for higher security levels (siloed administration) and better content management efficiency.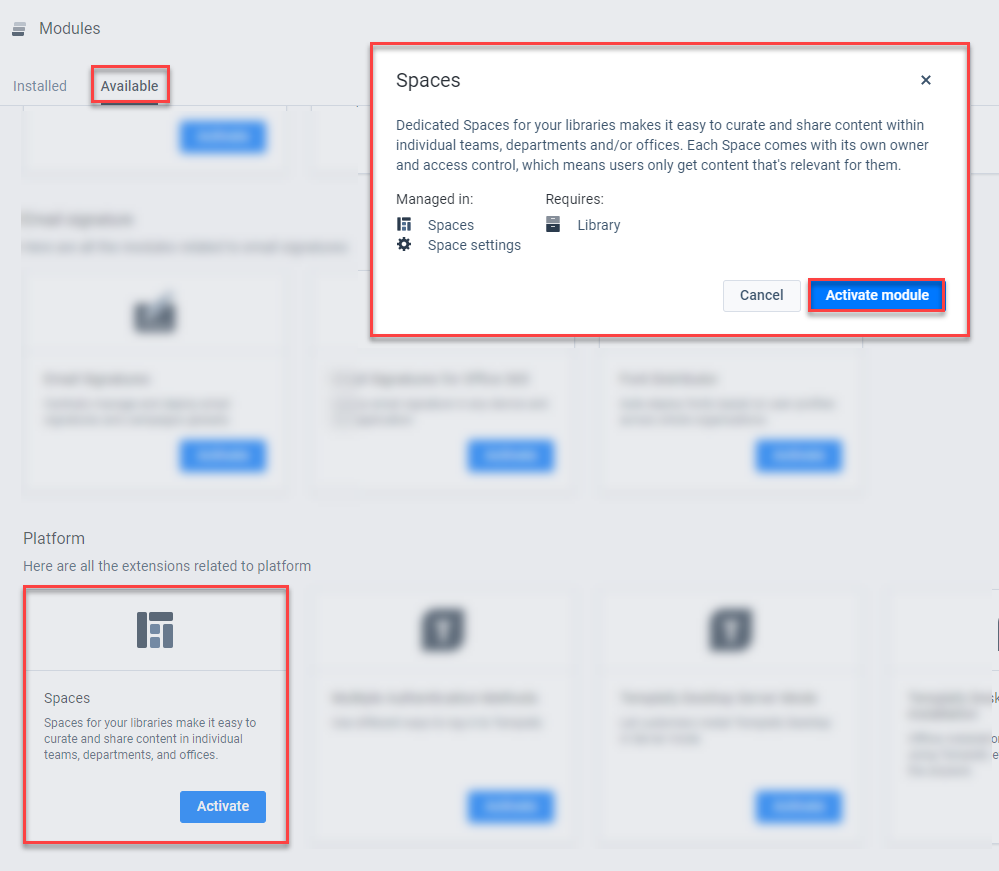 Once Spaces module has been activated, a default Global space will be created and made available to all users on the tenant. If any content already existed in the Libraries, it will remain available through the Global space. This default space can be renamed and its members can be edited.
Only Tenant owners have access to the Spaces tab and create new Spaces.
Dynamics compile will work across different Spaces. This means that a document can dynamically be generated utilizing content from multiple Spaces. End user with access to the Space hosting the dynamic document will get the document containing all content regardless of their access rights to the other Spaces. This allows for content to be continuously managed in a single place and need no duplication. Admins that are configuring overarching dynamic documents will need Space Owner access to all relevant Spaces in order to access the corresponding asset IDs.
Related articles