About this article
This article details questions and answers regarding Email Signature Server (Client Hosted). Sections in this article: 
What is the Templafy Email Signature Server (Client Hosted) architecture?
Templafy email signature server architecture is the same for both offering (Client Hosted) or (Templafy Hosted), the main difference is the infrastructure location where for Client Hosted it will be in the client's cloud environment where the whole email flow remains in client infrastructure without having anything redirected to any third party (including Templafy) for getting the signature applied like below: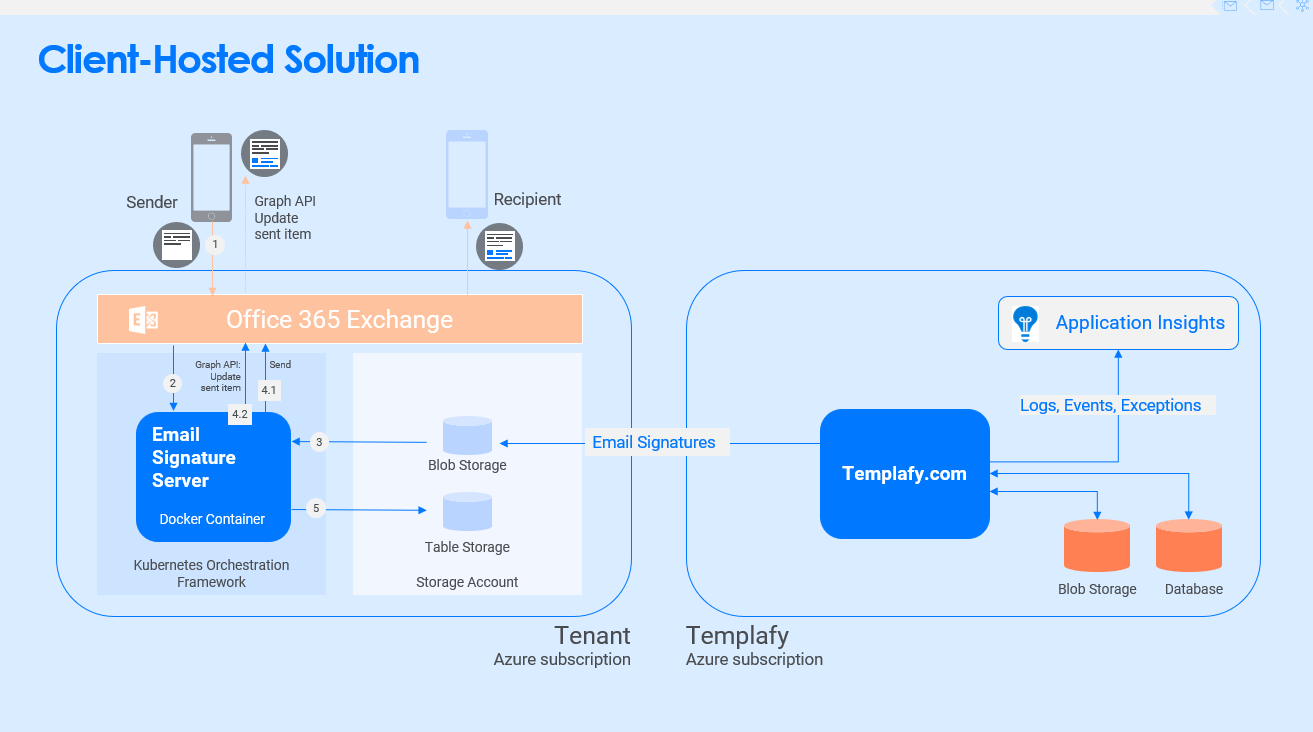 Why does port 25 need to be opened for Azure subscriptions?
All Azure subscriptions created after October 2017 will have port 25 blocked by default on all created virtual machines. A support ticket needs to be submitted to Microsoft to unblock the port in the subscription. After they have communicated that port 25 has been unblocked, it is best to test it by creating a new VM and attempting an outbound TCP connection on port 25.
Does Templafy have access to Client Hosted Email Signature Server?
No.
Templafy does not have any access to the server, as it is hosted in the client's Azure cloud.
In the event of customer-reported issue, Templafy may request a screen sharing session with customers' IT personnel to investigate the status of the cluster and its logs. Templafy may also request a time-limited Shared Access Signature for read-only access to the Tables that the Email Signature Server logs meta-data related to e-mail processing. This means that any access Templafy may have to a customer's Email Signature Server is subject to consent from the customer in question. 
Does the Email Signature Server send anything back to Templafy?
No.
The email signature server will not send anything outside the client's environment including Templafy.
How does the Client Hosted Email Signature Server interact with Templafy, and how can customers monitor this interaction?
All activity that the Email Signature Server outputs to the console, or logs to the Tables in the storage account for the cluster are all fully accessible by customers' Azure Admins. Nothing is sent out to Templafy servers by the Email Signature Server.
What if Email Signature Server is rejecting emails?
If emails are being rejected by the Email Signature Server or there are issues with routing, disable the Dynamic IP Validation to verify that the native IP validation system is not the one that is causing the issue.