About this article
AD claims are attributes coming from Active Directory, and these can be used to fill out User Profile information. User Profiles can be linked to AD claims and be either automatically filled and locked, or filled in by clicking Update profile information from company data in the Manage User Profile.
This article will explain how to set it up mapping to User Profile from a configuration perspective.
Sections in this article:
Prerequisites
Admin access in Templafy tenant
Authentication method needs to be Azure AD or SAML2
Supported AD claims
Active
Address
City
CompanyName
Country
Department
DisplayName
Email
ExternalUserId
FacsimileNumber
FirstName
JobTitle
LastName
MobilePhone
PostalCode
PreferredLanguage
State
TelephoneNumber
How to map AD claims in User Profile?
Go to the Admin Center
Navigate to the Users tab
Select User Profile tab
Click Edit form
Click Add form field
Fill out required fields in the General tab - go to article Configuration of form fields in the User Profile for more information
Go to the Configuration tab
Scroll down to the field AD Claim
Select an option from the dropdown list, that you wish to map to an AD claim




Click Add field
When a new User Profile is created, fields mapped to AD claim can be pre-populated with company data from Active Directory by toggling the auto-update AD Claim function

Custom claims are currently ONLY supported with SAML2 authentication (OKTA, OneLogin,..). NOT Azure AD-OpenID Connect
Only TextBox fields can be used to map AD claims in the User Profile
How to enable auto-update AD Claims in default User Profile only
Follow steps 1-3 above to navigate to Edit form
Click Edit on one of the User Profile fields, that is linked to an AD claim
Click the check box Lock profile field from edits so it becomes blue - this will lock the field for end-user editing and it only applies to the default User Profile
Click Save field
Click Publish


How to enable auto-update AD Claims across all User Profiles
Follow steps 1-3 above to navigate to Edit form
Click Edit on one of the User Profile fields, that is linked to an AD claim
Click the check box Lock profile field from edits so it becomes blue
Click the next check box Lock profile field for all user profiles this will lock the field for end-user editing in all User Profiles
Click Save field
Click Publish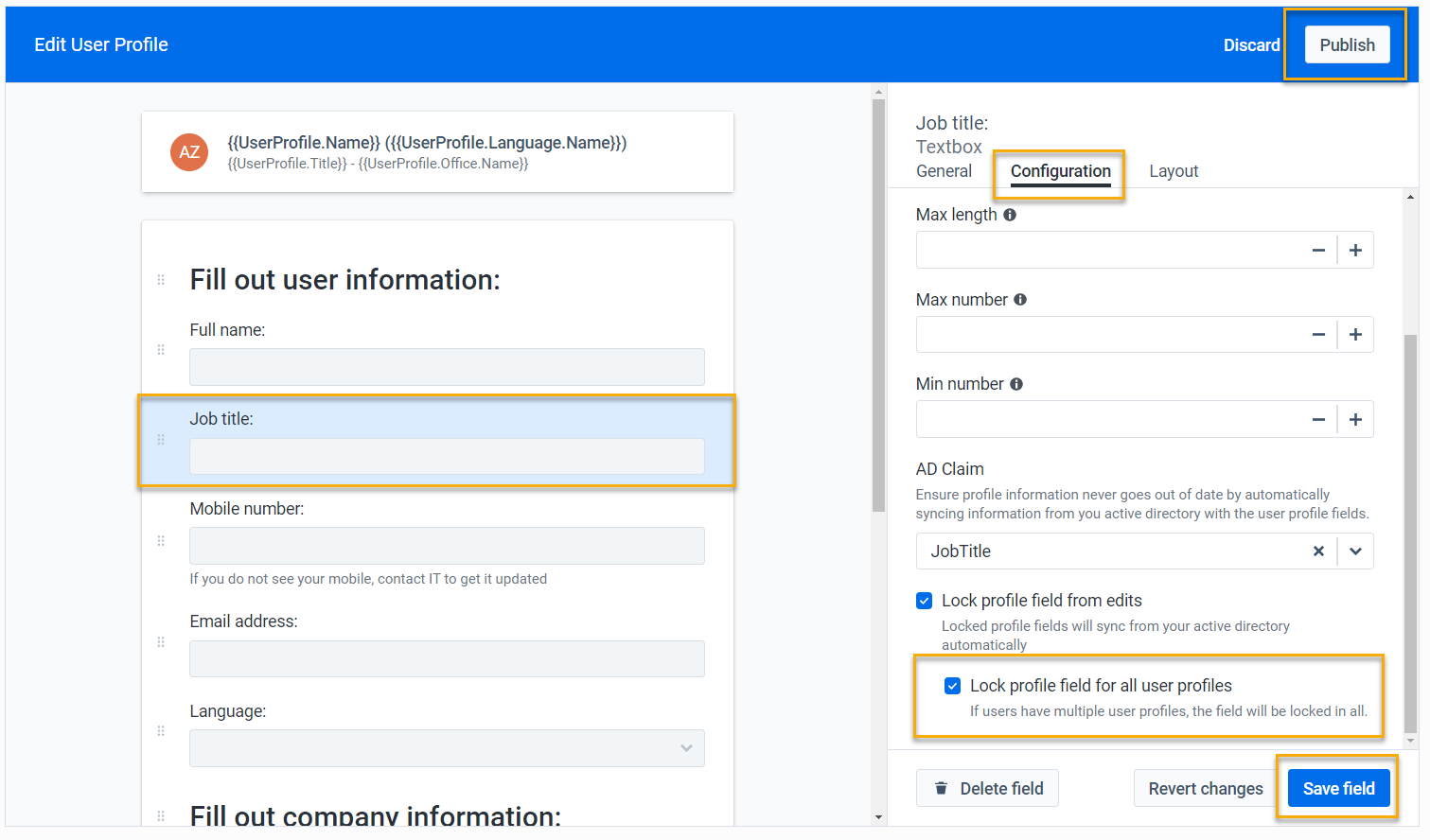 Related articles