About this article
This article explains the Sign-in prompt setting in the Admin center, what it affects and how to set it.
Prerequisites
 

Email Signature Web Add-in module activated.

Admin/Owner rights assigned.
What is a Sign-in prompt and why is it needed?
Sign-in prompt is typically displayed to end-users after the add-in has been successfully deployed to their devices and has not been interacted with.
Upon opening a new email, users will be prompted to sign-in to Templafy in order to gain access to their email signatures. After the sign-in is completed, the signatures will continue to be automatically inserted into emails based on message type (new or reply/forward) and recipient (internal/external) without any user interaction.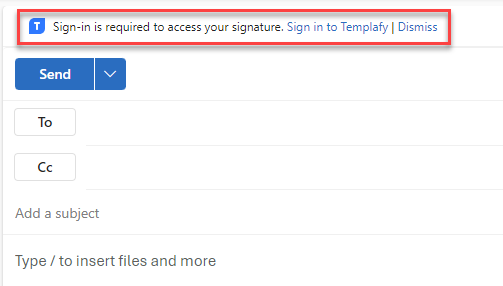 How often will the users be prompted to sign-in?
The periodicity of which end users will be seeing the prompt in outlook depends on the interval chosen in the admin center. Currently Admins are able to choose between 1 month, which is the default value, or 1 year. Once the access to signatures has run out, the prompt will appear again and access to signatures will be regained after completing the sign-in.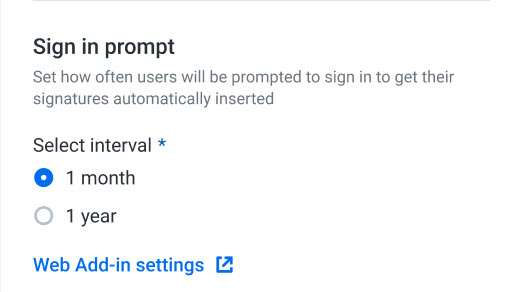 Will the signatures be continuously updated in that period?
Regardless of the interval chosen, the solution is designed to continuously keep the user's signature up to date behind the scenes, even if they don't interact with the web add-in in the designated period.
What is the difference/relation between sign-in prompt and login?
Sign-in prompt grants access to signature generated for the user and has its own lifetime. Login is specific to interacting with the Email Signature web add-in, where users can manage their own user profile/s (create, edit, delete) and has a different token lifetime (8h, 24h or 30 days). To interact with the web add-in users might be prompted to login more frequently.
 

Every time a user opens the task pane and logs into Templafy, the Sign-in prompt validity is reset.

For example: If the sign-in prompt validity is set to 30 days, and the end-user opens the task pane and logs in at least once in that time frame, the Sign in prompt for the automatic signatures will not be displayed (for the next 30 days since the interaction).
How do I update the Sign-in Prompt?
Navigate to your Templafy tenant
Click Email Signatures
Click More Options ellipses menu in the top right corner
Click Settings
Click Modules
Select desired interval under Sign in Prompt
Click Save
Related articles