About this article
This article explains the Update Document functionality that becomes available after a document has been created by the end-user. Sections in this article:
Prerequisites
What is Update Document?
Update Document is a functionality that appears after a document has been created by the end-user. After creation of a document, the end-user will have the possibility to update the created document based on either a new User Profile field selection or a new dynamic form field selection - if either of the two options have been configured dynamically in the template by an Admin.
To utilize the Update Document functionality, you can use the Update Document button located next to Templafy add-in under the "Home" tab: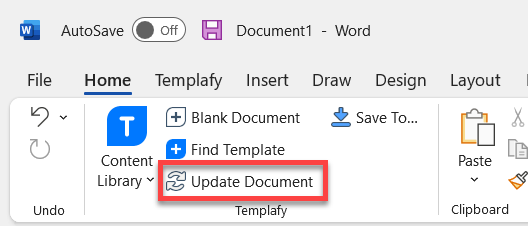 You can also access the Update Document button by opening the Library pane from the add-in. The Update Document button appears in the top right corner in the task pane, like this: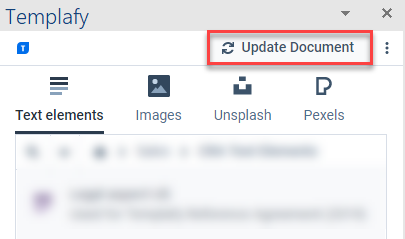 Please note: Only templates that are set up to be Document Content Updater enabled by Admins can be updated through the Update Document button in the Templafy task pane
Also, the Templafy desktop MSI installed on the PC must match the Account from which the template was generated for the Update Document button to be displayed.
How to use Update Document based on User Profile fields?
| | |
| --- | --- |
| | The below example uses Word to showcase the functionality, but this works similarly in Excel and PowerPoint |
Create a document from Templafy in Word
If the document is created from a dynamic template, the Update Document button appears in top ribbon next to Templafy add-in for easy access.
Click on the button Update Document
Edit information by changing values to a User Profile field that dynamically inserts content into the document. One example could be that a created document contains address information in the footer of the document containing some information about office location and based on a new, updated selection of office in the dropdown called Offices in the User Profile form, the document gets updated with the new selection of office and address.
Click Save
Click Update
The current document is updated, replacing the address in the footer
Related articles