About this article
This article is explaining how the Templafy Outlook Email Signature plugin on PC works with Azure Information Protection (AIP) Default Labelling in the Office applications.
Some organizations are using the default AIP labeling in all the generated assets from the office applications.
 

This use case is not anymore relevant with Email signature add-in version

7.54.0

and higher (release notes) as the dependency with Word application was reduced. 
Prerequisites
Background information
The Templafy Outlook Email Signature plugin on PC is relying on the Microsoft Word application to generate RTF and Plain Text formats for email signatures. The Default Labeling of AIP is blocking such operation until the default label is defined which prompts the user to select to choose the label. If no label would be chosen by the user, the generation of the signature would fail.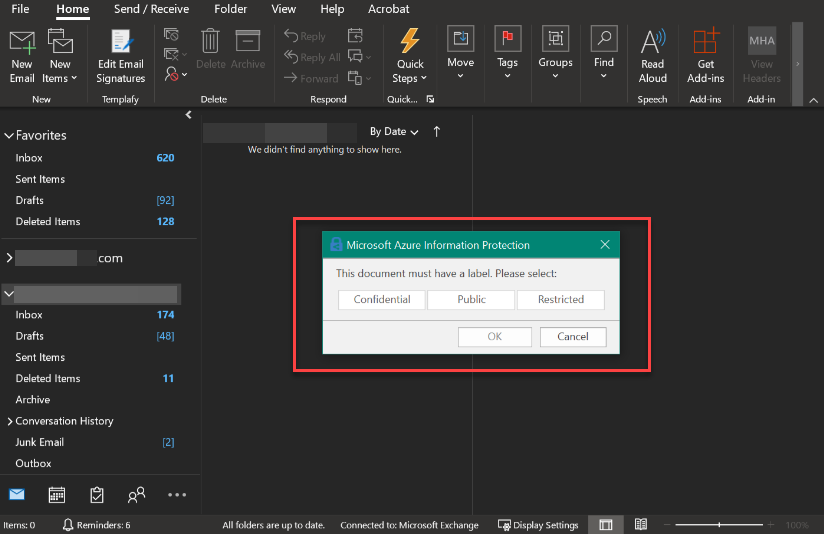 To remove the prompt for the user to choose the AIP labeling, Templafy introduced the possibility to set a default AIP labeling in the Admin Center. 
How to set the AIP Default Labeling in the generated RTF files by Word from the Templafy Admin Center?
Navigate to the Admin Center.
Click on the Email signatures section.
Click on More options in the ellipsis menu.
Click on Settings
Under the Modules tab in Email Signature VSTO Add-in section tabDefault Microsoft Information Protection Label, paste your AIP Label GUID
Click Save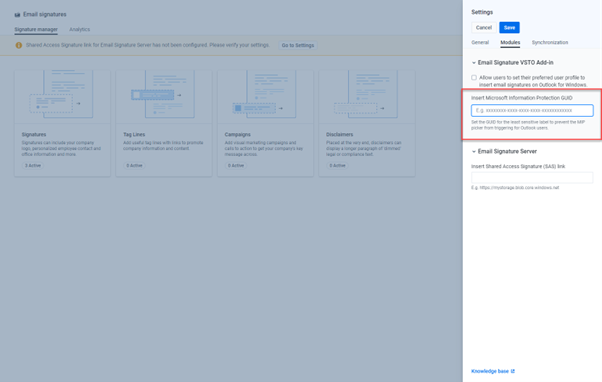 What label should I use?
Choose the least sensitive label to make sure that the process will not the interrupted. Also, the label should be available to all users in the organization.
The label will only be used temporarily during signature generation. No documents will therefore be stored or sent with this label.
Related articles