About this article
This article will detail how to trace the changes that have been made to the individual signatures in the Admin Center. This is to mitigate the risk of any misconfiguration within the email signature and give admins complete transparency of any changes.
| | |
| --- | --- |
| | The retention of the activities is tenant lifetime |
Prerequisites
| | |
| --- | --- |
| | At least one of the Email Signature modules enabled |
What are the activities logged in Email Signatures?
The below activities performed in the Email Signature will be displayed along with the author of the activity and the date/time of the change.
An Email signature part was created, activated, deactivated, duplicated, reordered, deleted, or its HTML has been edited.
The configuration of an email signature part was updated: the email signature part was renamed, the "Target audience" / "Used for" / "Valid from/to" was edited
The users or user groups targeted for an email signature part was edited: a user was added or removed, a user group was added or removed, a user profile filter was added or removed
A domain was added or removed on the signature part
Domains and internal domains were added or removed
Notifications were enabled or disabled
A synchronization was performed
The email provider was changed Google / Microsoft Office
Service Account Settings were added or removed
A SAS link was added or removed
The Outlook web add-in was enabled or disabled
The Default MIP Label was added or removed
The font was changed for New emails
The font was changed for Reply/Forward emails
Each logged activity will display the activity performed, the name of the user, the date, and the timestamp (UTC)
In the activity log, you can restrict the timeframe of activities displayed by utilizing the date picker and navigate directly to folders by clicking on the blue links.
| | |
| --- | --- |
| | There will be no details on the HTML edits |
How to access the Email Signature activity log?
Navigate to the Admin Center of your Templafy tenant
Navigate to the Email Signatures tab
Click on the More options

ellipsis menu in the top right corner

Click on the Activity log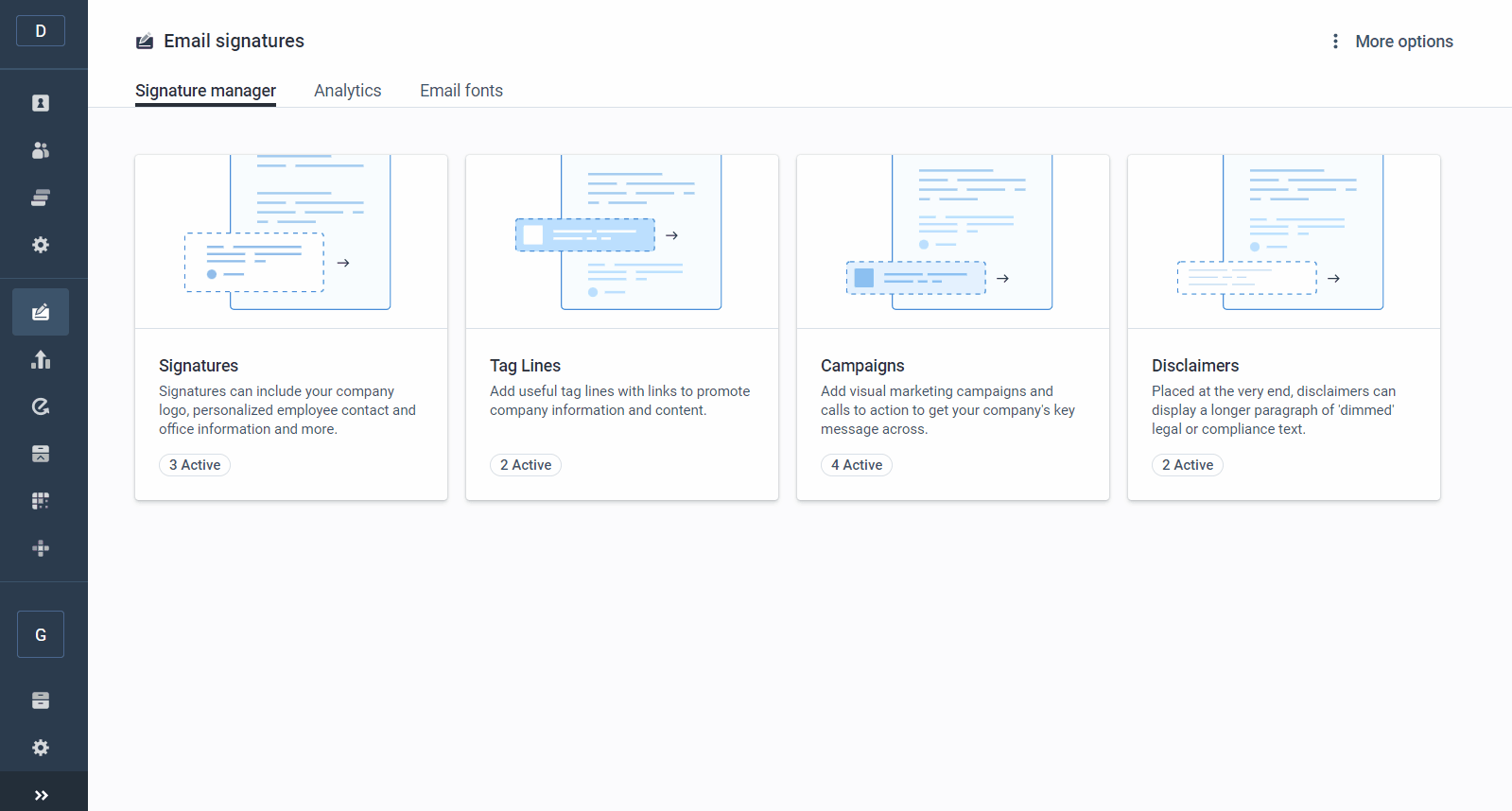 | | |
| --- | --- |
| | The Email Signature activity log can only be accessed in the Admin Center and cannot be downloaded. |
Related articles